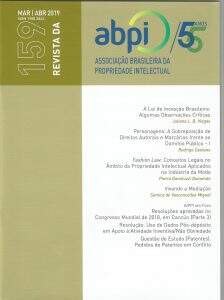 . Nota do Editor 2
Por Márcio Merkl e Marcelo Mazzola
. A Lei de Inovação Brasileira: Algumas Observações Críticas 3
Por Juliana L. B. Viegas
A proposta deste artigo é fazer uma análise das medidas legais adotadas pelo Brasil para incentivar a inovação tecnológica, e algumas das razões pelas quais os resultados alcançados, até agora, deixam a desejar. São comentados os dispositivos da Lei de Inovação com base (i) em direito comparado e (ii) em legislação nacional de direito administrativo, chegando a algumas conclusões tentativas.
Palavras-chave: estímulos à inovação – obsolescência de leis cambiais e fiscais – permissão v. obrigação de agir – inter-relação entre leis de direito administrativo.
The purpose of this article is to analyze the legal provisions adopted by Brazil to stimulate technological innovation, and some of the reasons why the results, so far, are far from successful. The provisions of the Innovation Law are reviewed with basis (i) on comparative law and (ii) on national administrative law. A few conclusions are suggested.
Keywords: Incentives to innovation – outdated exchange and tax laws – permission v. obligation to act – interrelationship among administrative laws.
. Personagens: A Sobreposição de Direitos Autorais e Marcários frente ao Domínio Público – I 27
Por Rodrigo Caetano
Pretende-se estudar a possibilidade e as formas de lidar com a sobreposição de direitos autorais e marcários em relação a personagens fictícios, com enfoque no aspecto do domínio público.
Palavras-chave: personagens – direito autoral – signos distintivos – sobreposição de direitos – domínio público
This study intends to study the possibility and how to deal with overlapping copyright and trademark rights regarding fictional characters, focusing on the public domains.
Keywords: fictional characters – copyright – trademarks – overlapping rights – public domain
. Fashion Law: Conceitos Legais no Âmbito da Propriedade Intelectual Aplicados na Indústria da Moda 47
Por Pietra Daneluzzi Quinelato
A indústria da moda tem grande participação na economia mundial, com números expressivos que são inferiores apenas da indústria de alimentos e bebidas, se consideradas juntas. Assim, o Direito da Moda ganhou espaço no cenário mundial devido à importância socioeconômica da indústria fashion, bem como a grande quantidade de litígios envolvendo cópias e a necessidade de tutela e proteção para um mercado com uma dinâmica particular. O objetivo deste trabalho é abarcar o tema Fashion Law e alguns dos conceitos da Propriedade Intelectual que estão presentes na indústria da moda, bem como institutos de proteção que englobam este mercado. Ainda, elenca-se a dinâmica diferente de outras indústrias criativas devido à baixa proteção de Propriedade Intelectual na moda, devido à facilidade em apropriação de designs de moda por terceiros, o que pode incentivar a manutenção do ciclo fashion.
Palavras-chave: Direito da Moda – Propriedade Intelectual – cópia – concorrência desleal – direito autoral
The fashion industry has a large area in the world economy, with impressive results that are lower only in the food and beverage industry, if considered together. The Fashion Law has gained space worldwide as a result of the socio-economic importance of the industry of fashion, as well as the increase of legal disputes involving copies or protection needed for a market with particular dynamics. The present study is intended to encompass Fashion Law subject and some intellectual property concepts that exist in the fashion industry, as well as the institutes of protection that includes the fashion market. Further, it relates a different dynamic than other creative industries in view of the lower intellectual property protection of in fashion, due to the ease in appropriating fashion designs by third parties, which can stimulate the maintenance of the fashion cycle.
Keywords: Fashion Law – Intellectual Property – copy – unfair competition – copyright
. Vivendo a Mediação 61
Por Samira de Vasconcellos Miguel
O texto analisa uma experiência de mediação envolvendo múltiplas partes e conflito na seara da Propriedade Intelectual. Relata e relaciona conceitos e estratégias da mediação no contexto das sessões realizadas sob a ótica de advogados e das próprias partes, enfatizando sua aplicabilidade e possibilidade de endereçar questões complexas e antigas a partir do protagonismo dos envolvidos, com ampla participação dos advogados, sob a coordenação da mediadora.
Palavras-chave: mediação – propriedade intelectual – conflito
The text is about the experience of mediation involving multiples parties and the conflict related to the intellectual property. It reports and relates the concepts and strategies in the mediation during the sessions through the attorneys and the parties, from their protagonism. It shows the participation of the attorneys and the coordination of the mediator in order to address the case.
Keywords: mediaton – intelectual property – resolution of conflict – ADR
. AIPPI em Foco Resoluções aprovadas no Congresso Mundial de 2018, em Cancún (Parte 3) 67
Resolução. Uso de Dados Pós-depósito em Apoio à Atividade Inventiva/Não Obviedade
Questão de Estudo (Patentes). Pedidos de Patentes em Conflito
. Agenda 72
Votar