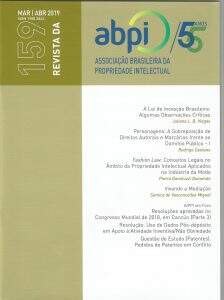 2 – Editor's Note
By Márcio Merkl e Marcelo Mazzola
3 – The Brazilian Innovation Law: Some Observations Reviews
By Juliana L. B. Viegas

The purpose of this article is to analyze the legal provisions adopted by Brazil to stimulate technological innovation, and some of the reasons why the results, so far, are far from successful. The provisions of the Innovation Law are reviewed with basis (i) on comparative law and (ii) on national administrative law. A few conclusions are suggested.
Keywords: Incentives to innovation – outdated exchange and tax laws – permission v. obligation to act – interrelationship among administrative laws.
27 – Characters: The Overlapping of Copyright and Trademarks in the Public Domain – I
By Rodrigo Caetano

This study intends to study the possibility and how to deal with overlapping copyright and trademark rights regarding fictional characters, focusing on the public domains.
Keywords: fictional characters – copyright – trademarks – overlapping rights – public domain
47 – Fashion Law: Legal Concepts in the Scope of Intellectual Property Applied in the Fashion Industry
By Pietra Daneluzzi Quinelato

The fashion industry has a large area in the world economy, with impressive results that are lower only in the food and beverage industry, if considered together. The Fashion Law has gained space worldwide as a result of the socio-economic importance of the industry of fashion, as well as the increase of legal disputes involving copies or protection needed for a market with particular dynamics. The present study is intended to encompass Fashion Law subject and some intellectual property concepts that exist in the fashion industry, as well as the institutes of protection that includes the fashion market. Further, it relates a different dynamic than other creative industries in view of the lower intellectual property protection of in fashion, due to the ease in appropriating fashion designs by third parties, which can stimulate the maintenance of the fashion cycle.
Keywords: Fashion Law – Intellectual Property – copy – unfair competition – copyright
61 – Living Mediation
By Samira de Vasconcellos Miguel

The text is about the experience of mediation involving multiples parties and the conflict related to the intellectual property. It reports and relates the concepts and strategies in the mediation during the sessions through the attorneys and the parties, from their protagonism. It shows the participation of the attorneys and the coordination of the mediator in order to address the case.
Keywords: mediaton – intelectual property – resolution of conflict – ADR
67 – AIPPI in Focus Resolutions approved at the 2018 World Congress in Cancún (Part 3)
Resolution. Use of Post-Deposit Data in Support of Inventive Activity / Non-Obviousness
Study Question (Patents). Conflict Patent Applications
 72 – Schedule