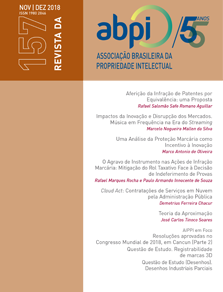 Nota do Editor 
Por Márcio Merkl e Marcelo Mazzola
 Aferição da Infração de Patentes por Equivalência: uma Proposta 
Por Rafael Salomão Safe Romano Aguillar
A Lei da Propriedade Industrial de 1996 inseriu no ordenamento jurídico brasileiro o tipo penal de infração de patentes pelo uso de meios equivalentes, anteriormente um ilícito contemplado apenas em sede doutrinária. A despeito disso, não há na Lei critérios objetivos para determinar o que seriam meios equivalentes e a jurisprudência nacional é falha em estabelecer um método de análise uniforme e consistente. Este artigo apresenta os principais precedentes estadunidenses e britânicos sobre a matéria e uma proposta de teste nacional a ser adotado pelo Judiciário.
Palavras-chave: Propriedade Intelectual – patentes – infração por equivalência
The 1996 Industrial Property Act introduced the doctrine of equivalents into Brazilian statutory Law, as it was previously understood as patent infringement by legal scholars and a few precedents alone. Notwithstanding the foregoing, the statute does not provide for objective criteria upon which one can assert a patent infringement under the doctrine of equivalents, nor does the national case Law. This paper presents the most relevant American and British case Law on this matter and a regulatory proposal through theestablishment of a Brazilian national test to apply the doctrine of equivalents.
Keywords: Intellectual Property – patent Law – doctrine of equivalents.
Impactos da Inovação e Disrupção dos Mercados. Música em Frequência na Era do Streaming 
Por Marcelo Nogueira Mallen da Silva
Este artigo traz algumas anotações sobre a inserção da mais recente plataforma de repertório musical via streaming, comparada a hipóteses de concorrência desleal  infração à ordem econômica.
Palavras-chave: inovação – disrupção dos mercados – tecnologia – concorrência – livre acesso.
This article argues that there are some notes on the insertion of the latest musical repertoire platform via streaming, compared to hypotheses of unfair competition and infringement of the economic order.
Keywords: innovation – market disruption – technology – competition – free access.
Uma Análise da Proteção Marcária como Incentivo à Inovação 
Por Marco Antonio de Oliveira
A inovação tende a impulsionar o desenvolvimento econômico, social e tecnológico. Neste processo o papel do inovador é essencial para que uma melhoria seja implementada no mercado. Este processo até a sua efetiva aceitação no mercado pode ser árduo e custoso, sendo necessário algum tipo de incentivo e garantia ao agente inovador. Dessa forma, o presente estudo tem por finalidade analisar por meio dos fundamentos atuais da proteção à marca, sua capacidade de incentivo à inovação nas empresas.
Palavras-chave: Propriedade Intelectual – marca – inovação
Innovation tends to boost economic, social and technological development. In this process the role of the innovator is essential for an improvement to be implemented in the market. This process until its effective acceptance in the market can be arduous and costly, being necessary some kind of incentive and guarantee to the innovating agent. Thus, the present study aims to analyze through the current foundations of trademark protection, how this can contribute to the incentive to innovation in companies.
Keywords: Intellectual Property – trademark – innovation
O Agravo de Instrumento nas Ações de Infração Marcária: Mitigação do Rol Taxativo Face à Decisão de Indeferimento de Provas 
Por Rafael Marques Rocha e Paulo Armando Innocente de Souza
O artigo apresenta como a taxatividade do rol de cabimento do agravo de instrumento,trazido pelo CPC/2015, vem sendo enfrentada atualmente pelos Tribunais e seus possíveis reflexos sobre o cabimento do citado recurso em face da decisão de indeferimento de produção de provas em ações de infração marcária. Nem sempre a infração a direitos de marca (ou outros Direitos da Propriedade Intelectual) podem ser constatados de pronto, sendo imprescindível a abertura da fase probatória no curso da demanda, motivo pelo qual o indeferimento de produção de provas em ações dessa natureza pode acarretar prejuízos imediatos e de difícil reparação que deveria desafiar agravo de instrumento para a sua revisão ante à urgência e possibilidade de dano. O tema, de forma abrangente, não se limitando às ações de infração, já foi decidido pelo STJ, que adotou a tese da taxatividade mitigada para definir a natureza do rol de cabimento do Agravo de Instrumento.
Palavras-chave: agravo de instrumento – rol taxativo – taxatividade mitigada – infração de marcas – fase probatória – urgência e dano – decisão do STJ
The article presents how the closed hypothesis to file interlocutory appeals, brought by the Civil Proceedings Code of 2015, is currently being dealt with by the Courts and its possible reflections on the decisions that rejects the production of evidence to support court actions of trademark infringement. The infringement of trademark registrations (or other intellectual property rights) are not always immediately verified, and it is essential to open the evidentiary phase, which is why rejecting the production of evidence in lawsuits of this nature may lead to immediate prejudice of difficult reparation that should be reviewed by means of interlocutory appeals, given the urgency and possibility of damage. The subject, in a comprehensive way, not limited to infringement actions, was already decided by the Superior Court of Justice that ruled in the sense of widening the hypothesis for the filing of interlocutory appeals.
Keywords: interlocutory appeal – closed hypothesis – mitigated variability – trademark infringement – evidentiary phase – urgency and damage – decision from the Superior Court of Justice
Cloud Act: Contratações de Serviços em Nuvem pela Administração Pública 
Por Demetrius Ferreira Chacur
O objetivo do artigo é trazer à discussão possíveis debates, do ponto de vista jurídico, em relação às contratações de serviços de computação na nuvem pela Administração Pública brasileira, após o advento da lei americana conhecida como Cloud Act, na hipótese de a contratada ser empresa norte-americana que seja obrigada a fornecer informações de caráter sigiloso.
Palavras-chave: Cloud Act – serviços – computação em nuvem – contratações – Administração Pública – Pregão Eletrônico no 29/2018
The objective of the article is to bring to the discussion possible legal debates regarding the contracting of cloud computing services by the Brazilian Public Administration, after the advent of the American law known as Cloud Act, in the hypothesis that the contractor is company that is obliged to provide information of a confidential nature.
Keywords: Cloud Act – services – cloud computing – contracting – Public Administration –
Bidding Process no 29/2018
Por José Carlos Tinoco Soares
O que se combate é a prática indecorosa de se aproveitar da marca ou da imagem que se destaca no mercado. É o espírito malsão de se aproveitar de um bem alheio.
Palavra-chave: Aproximação
That which is fought against is the unseemly practice of taking advantage of a noteworthy trademark or image in the market. It is the unhealthy spirit of taking advantage of a third party asset.
Keywords: Approximation
Resoluções aprovadas no Congresso Mundial de 2018, em Cancun (Parte 2)

Questão de Estudo. Registrabilidade de marcas 3D
Questão de Estudo (Desenhos). Desenhos Industriais Parciais