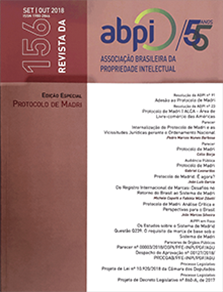 Nota do Editor 2
Por Márcio Merkl e Marcelo Mazzola
Resolução da ABPI nº 91
Adesão ao Protocolo de Madri 5
Resolução da ABPI nº 23
Protocolo de Madri | ALCA – Área de Livre-comércio das Américas 8
Parecer
Internalização do Protocolo de Madri e as Vicissitudes Jurídicas perante o Ordenamento Nacional 11
Por Pedro Marcos Nunes Barbosa
O presente parecer se enveredou na análise das incompatibilidades entre as disposições da Constituição da República, da Lei nº 9.279/1996, e em especial do princípio da isonomia para com as principais mudanças necessárias a eventual internalização do Protocolo de Madri.

Palavras-chave: Protocolo de Madri – inconstitucionalidade e ilegalidade – soberania nacional.

This Legal Opinion focused on the analysis of the incompatibilities of the Madrid Protocol towards the Brazilian Constitution, the Industrial Property Code (Law n. 9.279/1996), specifically considering the equality principle.

Keywords: Madrid Protocol – unconstitutionality and illegality – national sovereignty.
Parecer
Protocolo de Madri 40


Por Célio Borja




O Protocolo de Madri interfere com a sistemática de análise e concessão de registro de marca. Para estudar o tema, a ABPI formou um grupo de trabalho, cujas conclusões foram submetidas a todos os associados e aprovadas pela Resolução ABPI 23. Durante o estudo da questão, os integrantes do grupo de trabalho tiveram ensejo de ouvir o renomado especialista em Direito Constitucional, dr. Célio Borja, sobre as diversas implicações do referido tratado com o ordenamento jurídico do país, notadamente na esfera constitucional.





Palavras-chave: marcas – Protocolo de Madri – Direito Constitucional.





Considering that Madrid Protocol affects the analyzis and trademark registration granting systems, ABPI created a group of studies and discussion of this case. The conclusions of the discussion group were submitted to all associates and approved by ABPI Resolution n. 23. During this discussion, the members had met the renowed Constitutional Law expert, Célio Borja, which analyzed the various connotations of the referred Protocol into the brazilian legal system, mostly in the Constitutional field.





Keywords: trademarks – Madrid Protocol – Constitutional Law

Audiência Pública
Protocolo de Madri 52


Por Gabriel Leonardos

Protocolo de Madrid. É agora? 55


Por João Luís Garcia




O presente artigo diz respeito à adesão do Brasil ao Protocolo referente ao Acordo de Madrid relativo ao registo internacional de marcas. Riscos e desafios. Características técnicas.





Palavras-chave: marcas – registo internacional de marcas – Protocolo referente ao Acordo de Madrid relativo ao registo internacional de marcas – adesão do Brasil ao Protocolo de Madrid.





The present article is related to the future accession of the Brasil to the Protocol relating to the Madrid Agreement concerning the international registration of marks. Risks and challenges. Technical features of the system.





Keywords: Trademarks. International registration of trademarks – Protocol relating to the Madrid Agreement concerning the international registration of marks – accession of Brazil to the Madrid Protocol.

Do Registro Internacional de Marcas: Desafios no Retorno do Brasil ao Sistema de Madri 61


Por Michele Copetti e Fabíola Wüst Zibetti




Este artigo analisa os desafios do Brasil no retorno ao Sistema de Madri, tendo como base o histórico da proteção internacional das marcas no País, incluindo sua anterior participação no Acordo de Madri e o intento Interamericano de criação de um mecanismo regional de registro de marcas.





Palavras-chave: Propriedade Industrial – Marcas – Protocolo de Madri – Sistema de Madri.





This article analyzes the challenges in the return of Brazil to the Madrid System, considering the historical of the international protection of trademarks in the country, including its previous participation in the Agreement of Madrid and the Inter-American attempt to establish a regional trademark registration mechanism.





Keywords: Industrial Property – Protocol of Madrid – System of Madrid – Trademarks.

Protocolo de Madri: Análise Crítica e Perspectivas para o Brasil 71


Por João Marcos Silveira




O autor apresenta as linhas gerais desse sistema e destaca as suas principais regras, oferecendo uma análise crítica fundamentada das vantagens e desvantagens que decorreriam de sua adoção.





Palavras-chave: Protocolo de Madri – Acordo de Madri – sistema de Madri





The author presents the general lines of this system and highlights its main rules, offering a well-based and critical analysis of the advantages and disadvantages of its adoption.





Keywords: Madrid Protocol – Madrid Agreement – Madrid system

AIPPI em Foco


Os Estudos sobre o Sistema de Madrid 82




Questão Q239. O requisito da marca de base sob o Sistema de Madri

Pareceres de Órgãos Públicos


Parecer nº 00003/2018/CGPI/PFE-INPI/PGF/AGU 85




Despacho de Aprovação nº 00127/2018/PROCGA B/PFE-INPI/PGF/AGU




Processo Legislativo

Projeto de Lei nº 10.920/2018 da Câmara dos Deputados 103


Processo Legislativo




Projeto de Decreto Legislativo nº 860-A, de 2017 107

Agenda 112
VOLTAR