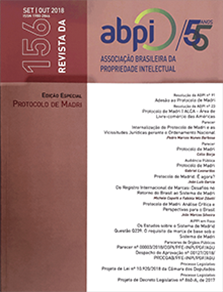 2 – Editor's Note
By Márcio Merkl e Marcelo Mazzola
5 – ABPI Resolution No. 91 – Adherence to the Madrid Protocol
8 – ABPI Resolution No. 23 – Madrid Protocol | FTAA – Free Trade Area of ​​the Americas
11 – Seem Internalization of the Madrid Protocol and Legal Vicissitudes before the National System
By Pedro Marcos Nunes Barbosa

This Legal Opinion focused on the analysis of the incompatibilities of the Madrid Protocol towards the Brazilian Constitution, the Industrial Property Code (Law n. 9.279/1996), specifically considering the equality principle.

Keywords: Madrid Protocol – unconstitutionality and illegality – national sovereignty.
40 – Seem Madrid Protocol 
By Célio Borja

Considering that Madrid Protocol affects the analyzis and trademark registration granting systems, ABPI created a group of studies and discussion of this case. The conclusions of the discussion group were submitted to all associates and approved by ABPI Resolution n. 23. During this discussion, the members had met the renowed Constitutional Law expert, Célio Borja, which analyzed the various connotations of the referred Protocol into the brazilian legal system, mostly in the Constitutional field.

Keywords: trademarks – Madrid Protocol – Constitutional Law
52 – Public Hearing Madrid Protocol
By Gabriel Leonardos
55 – Madrid Protocol. And now? 
By João Luís Garcia

The present article is related to the future accession of the Brasil to the Protocol relating to the Madrid Agreement concerning the international registration of marks. Risks and challenges. Technical features of the system.

Keywords: Trademarks. International registration of trademarks – Protocol relating to the Madrid Agreement concerning the international registration of marks – accession of Brazil to the Madrid Protocol.
61 – From the International Trademark Registration: Challenges in Brazil's Return to the Madrid System
By Michele Copetti e Fabíola Wüst Zibetti

This article analyzes the challenges in the return of Brazil to the Madrid System, considering the historical of the international protection of trademarks in the country, including its previous participation in the Agreement of Madrid and the Inter-American attempt to establish a regional trademark registration mechanism.

Keywords: Industrial Property – Protocol of Madrid – System of Madrid – Trademarks.
71 – Madrid Protocol: Critical Analysis and Perspectives for Brazil
By João Marcos Silveira

The author presents the general lines of this system and highlights its main rules, offering a well-based and critical analysis of the advantages and disadvantages of its adoption.

Keywords: Madrid Protocol – Madrid Agreement – Madrid system
 AIPPI in Focus
82 – Studies on the Madrid System 
Question Q239. The base brand requirement under the Madrid System
Opinions of Public Agencies
Opinion nº 00003/2018 / CGPI / PFE-INPI / PGF / AGU 85
Approval Order No. 00127/2018 / PROCGA B / PFE-INPI / PGF / AGU
Legislative process
103 – Bill of Law No. 10,920 / 2018 of the Chamber of Deputies
Legislative Process
Draft Legislative Decree No. 860-A, 2017 107
112 – Schedule