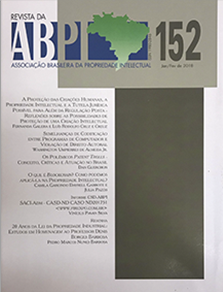 Editor's Note 2
By Márcio Merkl

The Protection of Human Creations, Intellectual Property and Possible Legal Protection in addition to the Regulations Set – Reflections on the Possibilities for the Protection of an Intellectual Creation 3
By Fernanda Galera e Luís Rodolfo Cruz e Creuz

The study evaluates from the IP perspective other forms of protection, guarantee and / or priority on the ownership of intellectual creations, whether they have industrial nature or not, besides the usual and legal institutes of protection, in order to cover alternative measures of ownership of what is created by companies and entrepreneurs.

Keywords: Intellectual Property – Industrial Property – copyright – business secrets – unfair competition – disclosure letter
Coding Similarities between Computer Programs and Copyright Infringement 24
By Washington Umpierres de Almeida Jr.

The work aims to assess to what extent, technically, similarities in the code of two computer programs can be considered as infringement of intellectual property right. The theme is relevant because there is no method of analysis for the subject, and in those cases where the analysis is necessary, the conclusions are based on varied experiences and perspectives of expert professionals around the theme.

Keywords: software – source code – object code – copyright – similarity – infringement – plagiarism.
 The Controversial Patent Trolls – Concept, Criticism and Performance in Brazil 42
By Dan Guerchon

The article intends to explain what is a patent troll, examining its main criticisms and analyzing the possible operation in Brazilian territory.

Keywords: Industrial Property – patents – patent trolls – non practicing entities – patent assertion entities – criticisms – utilitarianism – social function of property.
What is Blockchain? How can we apply it to Intellectual Property? 52
By Camila Garcindo Dayrell Garrote e Julia Pazos

In an economy and society increasingly global, in which people and companies seems to belong to the world and not to a single nation, sounds interesting to have ways to protect Intellectual Property assets that may have a global protection "stamp", easily accessible and, mainly, reliable and secure, which is precisely the proposal and promise of the blockchain system. This paper aims to discuss the current forms of protection of Intellectual Property assets, its difficulties and align those points of relatively nebulous scenario in the country with technological solutions that can represent a great revolution in the form of establishing priority about certain goods or creations, object of Intellectual Property.

Keywords: blockchain – Intellectual Property – bitcoin – trade secret – patent – copyright
 Report CSD-ABPI SACI-Adm – CASD -ND CASE ND201751 <www.firexpo.com.br> 63
By Vinícius Pavan Silva
Review 20 Years of the Industrial Property Law: Studies in Honor of Professor Denis Borges Barbosa 71
By Pedro Marcos Nunes Barbosa
Schedule 72