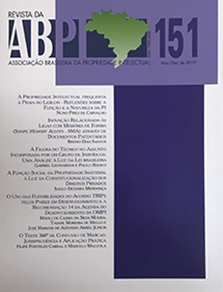 Editor's Note 2
Por João Marcelo de Lima Assafim
Frequent Intellectual Property in Praia do Leblon – Reflections on the Function and Nature of IP 3
By Nuno Pires de Carvalho

Frequently the debates concerning Intellectual Property – against it or in its favor – are fed by the idea that it is mainly at the service of large corporations. But both sides are wrong. IP is a spontaneous instrument of the free market – it emerges in all places where men and women, regardless of the size of their businesses, seek to earn their living by buying and selling goods and services. One morning spent under the sun at the beach of Leblon, in Rio de Janeiro, is a clear illustration of that.

Keywords: Intellectual Property – function – informality – spontaneity – institutional support
Innovation Related to Shape Memory Alloys (SMA) through Patent Documents 21
By Bruno Dias Santos

In this article, concepts about innovation and patents and a bibliographical review on shape memory alloys are presented. Qualitative and quantitative results obtained from searches in free databases for patent documents related to shape memory alloys filed throughout the world and in Brazil are presented and discussed.

Keywords: shape memory alloys – patents – technological information – innovation.
The Figure of the Technician in the Subject Incorporated by a Group of Individuals: An Analysis in the Light of Brazilian Law 35
By Gabriel Leonardos e Paulo Bianco

The present paper intends, in its first part, to analyze the inventive step requirement and the figure of the person skilled in the art under the Brazilian legal framework. Then, this text dedicates to the question whether a group of experts can incorporate the figure of the person skilled in the art.

Keywords: patent – inventive step – non-obviousness – person skilled in the art – complex evidence.
 The Social Function of Immaterial Property in the Light of the Constitutionalization of Private Rights 47
By Saulo Bichara Mendonça

The present study aims at scrutinizing the issue of recognition of the legitimacy of immaterial property, aiming at the analysis of its characteristic and nature as a result of the development of the intellectual and inventive activity.

Keywords: social function – immaterial property – regulation.
 Developing Countries' Use of TRIPs Flexibilities and WIPO Development Agenda Recommendation 14 56
By Mavili de Cassia da Silva Moura, Taiane Moreira de Mello e José Marcos de Azevedo Abreu Júnior

The implementation of the Development Program within WIPO depends on the role of each State in the Economy, so the use of TRIPs flexibilities and the Brazilian challenges in the development are objectives of this paper.

Keywords: TRIPs Agreement – development – Intellectual Property.
 The 360º Brand Confusion Test: Jurisprudence and Practical Application 64
By Filipe Fonteles Cabral e Marcelo Mazzola

The article presents the development of the jurisprudence using the "Teste 360º" as a method for the analysis of confusion in trademark and trade dress cases. The authors also propose an analytics chart to help practitioners in using the Teste 360°.

Keywords: "teste 360º" – trademarks – confusion – method of analysis.
 Schedule 71