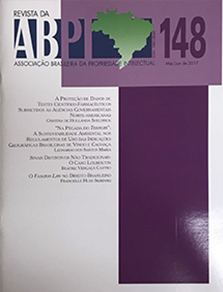 Editor's Note 2
By João Marcelo de Lima Assafim
 Data Protection from Scientific-Pharmaceutical Tests Submitted to North American Government Agencies 3
By Cristina de Hollanda Sheldrick

This paper analyzes the legal protection of pharmaceutical scientific data submitted to governmental agencies in the United States of America during the application for market approval of certain products.

Keywords: linkage – data protection – scientific data
 "In the Footprint of Terror": Environmental Sustainability in the Regulations for the Use of Brazilian Geographical Indications for Wine and Cachaça 20
By Leonardo dos Santos Maria
This work aimed to identify how the environmental dimension of sustainability, increasingly on the agenda today, is evidenced in the regulations of use of Brazilian's Geographical Indications of wine and Cachaça, as legal obligations or voluntary measures by producers' associations.

Keywords: differentiation – institutional economics – environment – techno-economic paradigms – Industrial Property
Non-Traditional Distinctive Signs: The Louboutin Case 39
By Beatriz Vergaça Castro

This paper presents a brief study on position and color trademarks, through the analysis of the famous trademark infringement lawsuit proposed by Christian Louboutin against Yves Saint Laurent in order to protect his famous red soles.

Keywords: non-conventional trademarks – Louboutin – position trademarks – non traditional trademarks – color trademarks – fashion law
Fashion Law in Brazilian Law 54
Por Francielle Huss Skibinski

This paper aims to analyze and demonstrate the possibility of protection by the Institute of Intellectual Property in Fashion Law. The objective was demonstrate that the self-employed designers and large companies can be protected by the mentioned institute, granting to them safety to present more innovative ideas, benefiting the consumer market as a whole.

Keywords: Intellectual Property – Fashion Law – counterfeit.
Schedule 68