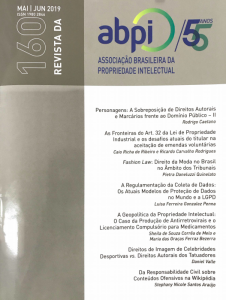 . Nota do Editor 2
Por Márcio Merkl e Marcelo Mazzola
. Personagens: A Sobreposição de Direitos Autorais e Marcários frente ao Domínio Público – II 3
Por Rodrigo Caetano
Pretende-se estudar a possibilidade e as formas de lidar com a sobreposição de direitosautorais e marcários em relação a personagens fictícios, com enfoque no aspecto dodomínio público.
Palavras-chave: personagens – direito autoral – signos distintivos – sobreposição de direitos – domínio público
This study intends to study the possibility and how to deal with overlapping copyright and trademark rights regarding fictional characters, focusing on the public domains.
Keywords: fictional characters – copyright – trademarks – overlapping rights – public domain
. As Fronteiras do Art. 32 da Lei de Propriedade Industrial e os desafios atuais do titular na aceitação de emendas voluntárias 24
Por Caio Richa de Ribeiro e Ricardo Carvalho Rodrigues
O presente trabalho não visa esgotar tema tão complexo da área de Patentes, porém propõe um diálogo entre o marco regulatório da aplicabilidade de emendas a pedidos de patente, após o requerimento de exame, e as dificuldades atualmente encontradas por aquele depositante que pretende fazer valer seu direito.
Palavras chave: patente – processamento – emendas – artigo 32 da LPI – interpretação
The paper has no claim to completeness on such a complex matter within the Patent System. Rather, it aims on establishing a dialogue between the Brazilian regulatory framework related to the acceptability of amendments in patent applications, once its prosecution has been triggered, and the obstacles to be overcome by any patents who whishes to ensure its rights.
Keywords: patent – prosecution – amendments – article 32 of Brazilian IP Law – interpretation
. Fashion Law: Direito da Moda no Brasil no Âmbito dos Tribunais 36
Por Pietra Daneluzzi Quinelato
O Direito da Moda ganhou espaço no cenário mundial devido à importância socioeconômica da indústria fashion, a grande quantidade de litígios envolvendo cópias e a necessidade de tutela e proteção para um mercado específico e, por vezes, não compreendido no Judiciário. O objetivo deste trabalho é introduzir o tema Fashion Law e mostrar, através das decisões judiciais dadas em dois casos paradigmáticos no Brasil, envolvendo possíveis cópias na indústria da moda, os conceitos e institutos de proteção que englobam este mercado.
Palavras-chave: Direito da Moda – Propriedade Intelectual – cópia – concorrência desleal – casos jurisprudenciais.
Fashion Law gained space in the international scenario in the last few years due to the socioeconomic importance of the fashion industry and a large number of disputes involving copies and the possible necessity of protection. The aim of the present study is introducing the Fashion Law theme and to show, through court decisions handed in two famous cases in Brazil involving copy in the fashion industry, the concepts and institutes of protection that compose this market.
Keywords: Fashion Law – Intellectual Property – copy – unfair competition – law cases
. A Regulamentação da Coleta de Dados: Os Atuais Modelos de Proteção de Dados no Mundo e a LG PD 45
Por Luisa Ferreira Gonzalez Penna
O presente artigo tem como objetivo analisar os atuais modelos de regulamentação da coleta, tratamento e armazenamento de dados pessoais existentes nos principais ordenamentos jurídicos do mundo, abordando-se o modelo europeu de proteção de dados, o modelo americano e, ao final, o modelo brasileiro de proteção de dados, agora mais sofisticado com a edição da Lei nº 13.709/2018, a LGPD brasileira.
Palavras chave: novas tecnologias – regulamentação – proteção de dados pessoais – GDPR – Lei Geral de Proteção de Dados – LGPD.
The present paper aims to analyze the current existing regulation systems of collection, treatment and storage of personal data in the main legal systems of the world, addressing the European system of data protection, the American system and, finally, the Brazilian system of data protection.
Keywords: new technologies – regulation – personal data protection – GDPR – Brazilian General Data Protection Act – LGPD.
. A Geopolítica da Propriedade Intelectual: O Caso da Produção de Antirretrovirais e o Licenciamento Compulsório para Medicamentos 53
Por Sheila de Souza Corrêa de Melo e Maria das Graças Ferraz Bezerra
O presente artigo busca discutir os sentidos e disputas em torno do licenciamento compulsório para medicamentos no marco da política externa brasileira a partir de um investimento bibliográfico sobre a produção de antirretrovirais a partir das reconfigurações do campo suscitadas pelas mais recentes inovações farmacológicas no que diz respeito à busca de uma cura para a Aids e contenção do crescente avanço do HIV.
Palavras-chave: Propriedade Intelectual – antirretrovirais – licenciamento compulsório para medicamentos
This article aims to discuss the meanings and disputes surrounding the compulsory licensing of drugs within the framework of Brazilian foreign policy based on a bibliographic investment on the production of antiretrovirals from the field reconfigurations provoked by the most recent pharmacological innovations with respect to the research for a cure for Aids and containment of the growing advance of HIV.
Keywords: Intellectual Property – antiretrovirals – compulsory licensing for medicinal products.
. Direitos de Imagem de Celebridades Desportivas vs. Direitos Autorais dos Tatuadores 60
Por Daniel Valle
O presente artigo trata dos direitos autorais dos tatuadores quando em conflito com o direito de imagem de esportistas tatuados em situações naturalmente suscitadas pela peculiaridade do principal meio de fixação da tatuagem: o corpo humano.
Palavras-chave: direitos autorais – tatuador – direito de imagem – celebridade desportiva – conflito
This article deals with Tattoo Artists Copyrights and their conflict with Sports Celebrities Image Rights in natural situations occasioned by the peculiarity of fixation mean of tattoos: the human body.
Keywords: copyright – tattoo – image rights – sports celebrity – conflict.
. Da Responsabilidade Civil sobre Conteúdos Ofensivos na Wikipédia 66
Por Stephany Nicole Santos Araújo
O presente trabalho visa a abordar sobre a possibilidade de responsabilizar civilmente a Wikimedia Foundation sobre os eventuais conteúdos ofensivos inseridos na Wikipédia por seus colaboradores que, via de regra, são de difícil identificação, uma das principais características das chamadas obras colaborativas.
Palavras-chaves: obras colaborativas – Wikipédia – Wikimedia Foundation – responsabilidade civil – Marco Civil da Internet
The present paper aims to address the possibility of making Wikimedia Foundation civilly liable for the offensive content inserted in Wikipedia by its collaborators who are difficult to identify, one of the main characteristics of so-called peer-production.
Keywords: Peer-production – Wikipedia – Wikimedia Foundation – Civil Liability – Brazilian Civil Rights Framework for the Internet.
. Agenda 72
Voltar